Join us at Euroclub 2014 – 24th International Summer Camp on Šolta, Dalmatia! Take advantage of the cleanest Mediterranean Sea, pebbled beach, sun and fun in Sea Park -combined with hundreds of friends from all over the world! Learn from native speakers and talk to them all day! And compare our prices to similar camps in England, Italy, Switzerland or others.

Read More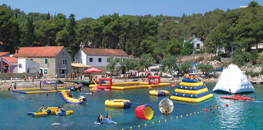 Euroclub is the largest international youth camp on the Adriatic and the only place dedicated entirely to youth and children It is situated on the beautiful island of Šolta.
in the heart of Dalmatia for 23years.
Camp programs

Terms & Prices

Camp description

Reservation
Sports at camp

Football
Basketball
Volleyball
Handball
Table tennis
Mini golf
Archery
Airgun
Adventure polygon

Water sports


Swimming
Rowing
Diving
Wrestling
Water volleyball
Waterpolo
Walking ball
Crazy jumps
Brain gymnastic

Creativity and fun

Detective quiz
Treasure hunt
Aerobic
Spy night
Beach karaoke
Book of records
Puzzles
Candid camera
Camp news
Can you survive 7 days
without your parents,
television and computers?

Will my child learn
English in 7 days???
Of course not! But...

Can you permit your child
to grow up without
the knowledge of language?

In the past 22 years
110 000 students
what about your child?